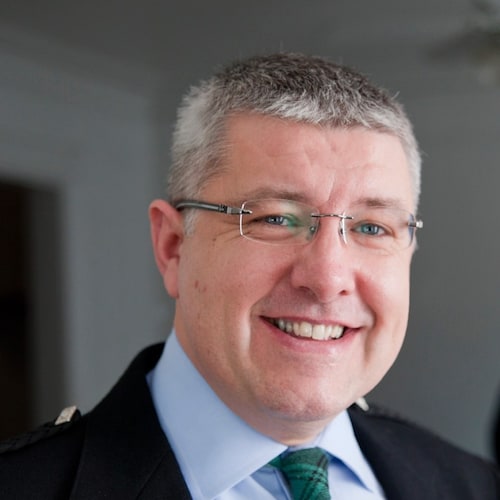 Andrew B Brown
Former Commander, Chief Inspector (retd.) Andrew B Brown is an internationally renowned hostage/crisis negotiator with specialist knowledge and experience in dealing with kidnap for ransom; in designing conflict de-escalation skills for military operations and acting as an expert witness to judicial inquiries on the response to hostage-taking. A Fellow of the Chartered Management and Security Institutes, he has developed advanced negotiation and crisis leadership skills for major corporations, public policy organisations and Olympic class sports coaches. As an Executive Coach, he guides global clients through crisis to better & more meaningful outcomes. As a Fulbright Alumnus, he continues to teach advanced negotiation tactics to many law enforcement agencies including NYPD, USMS and the FBI. Published in his field, he remains an Advisor to the Editorial Board of the Crisis Response Journal and has been recently appointed as a Director to the Emergency Planning Society.
How to slow down time: making space when you're in a tight spot.
Host Leadership helps us combat the time-bound and pressure-driven world of KPI's, where stress, social media and the unrelenting pace of chasing targets means that our focus on our own agenda drives our inability to effectively listen to others. Adhering to the traditional questioning method of gaining information can often let others feel like they are being interrogated to provide information and naturally leads to creating barriers in conversation. In this session, you are going to learn how to de-construct negotiations and hone your skills in facilitating that tactical negotiation to achieve that win-win result.
The creation of the Behavioural Change Staircase by the Federal Bureau of Investigation (FBI) in the early 1970s paved the way for law enforcement negotiators to effectively de-escalate and negotiate with others in crisis to bring about a peaceful conclusion to a critical event. Based on social science and practitioner experience this model of engagement has many parallels with the framework upon which Host Leadership was created. Importantly, both approaches are effective in creating space, building trust and in achieving resolution for both parties.
As children in the formation of our speech and understanding of the language, we actively listen, picking up on keywords and phrases that our parents use. Remember how we tell that bedtime story to our children; we use our voice to 'paint the picture' and take them on that journey of discovery. It is not what we say, but how we say it. However, as we enter adolescence we are distracted by social media, external and internal pressures that often impact on our ability to listen effectively.
By initiating dialogue, we can skillfully use the seven techniques in active listening to create space for others to open up and disclose emotions, feelings and information. Our own life experience can be a very effective tool in being empathic towards others and it is this combined with active listening that allows us to make that vital connection that builds the foundation for trust.
Emotions play a significant part in our decision-making and it is our ability in dialogue not only to control our own emotions but to recognise the emotions of the person or group with whom we are engaging. When emotions run high or low our effectiveness in negotiations is diminished as those respective emotional states do not create the space for rational conversation. So, recognising the optimum emotional balance helps us to create the right environment to make that connection.
Creating space through active listening and empathy, we naturally begin to build rapport, when the dialogue flows with ease and we discover the deeper issues. In doing so, the temptation is to problem solve for the other person, but like Host Leadership, that is not our goal. By solving the problem for the other person(s) we only provide a solution, but they have no ownership of it and therefore are less likely to implement it. Our objective is to help guide the person(s) to their own problem-solving solution; we only encourage the thinking and dialogue.
In this rapport stage that we can begin to use the power of influence and persuasion; a subject that has been studied since ancient times where Aristotle defined his three pillars of persuasion as Ethos, Pathos and Logos. Often it is at this stage that we become impatient for change and start talking too much, but the power of suggestibility is a seed that is sometimes best left to germinate in the mind of others until it bears fruit.
The science behind influence is not surprisingly underpinned by active listening and it is how we use the principles defined by Robert Cialdini of reciprocity, commitment and consistency, social proof, authority, liking and scarcity to influence others. Often at this moment, when we can see the goal, that we allow pressure to build that then spirals us into not listening as we become focused on our own agenda.
A blend of Host Leadership and tactics used from the crisis negotiation world can effectively buy us time to consider best options and to make the best decisions; ones that are underpinned by knowledge, information and that connection with the other person(s). Not succumbing to the pressures of demand with an assigned deadline, allow us to calmly deal with the pressure of the situation as we act as our own gatekeeper to our decision-making.
As we move towards behavioural change, we recognise that we need to keep that connection strong through active listening, empathy and rapport as we start to see the effect of our influence and persuasion. We are a co-participator at this point as we guide the person(s) to a mutually agreeable solution that works for all and in this, we keep going until we have observed the fruits of our negotiation.
Participants will learn the theory and tactics behind high-pressure negotiations and through immersive exercises how to buy time for improved decision-making that leads to a win-win result.
Learning outcomes:
Aimed at those who wish to build an in-depth knowledge of effective negotiation techniques that help in the everyday working environment, by teaching participants the following skills:
Negotiator Attributes – learning techniques to control your emotions and deal with egos to create the optimum environment for negotiations
Psychological, Cultural & Generational Aspects of Negotiation – using a range of tactics that help you navigate different personality types, cultural and generational nuances
Active Listening – the stealth weapon of effective negotiation
Empathy & Rapport – listening to understand the key issues to build that connection and develop great rapport
Persuasion & Influence – using an effective blend of science and practitioner experience to fully utilise the power of suggestibility and the dynamics of compliance in influencing others towards your goal
Behavioural Change – understanding the model, slowing downtime to reduce pressure and make more informed decisions in creating that win-win result Participants will engage in immersive exercises that allow them to demonstrate their skills, with coaching to hone technique. Ideal in teaching staff to facilitate that 'difficult conversation' to bring about positive change in the workplace by creating space and in skillfully negotiating with others to achieve a win-win result.